Updated: 30th April, 2020
Sidekick is an add-on app for Assetto Corsa that provides an on-screen HUD showing information about your car, laptimes, and track conditions.
Originally developed by Topuz and released on Race Department, he has kindly given permission for me to release some additional enhancements to the wider Assetto Corsa community.
Sidekick already had many many features and configuration options when Topuz stopped updating it, one day I might even document them here. But for now i'm just going cover the features I've added since Topuz's last version, refer to the readme that came with v1.11.1 (viewable here) for the rest of the features.
The Second Row Display
The most obvious addtional feature is a second line of information including:
The current track conditions, including ambient temperature, track temperature, and wind speed and direction.
A tripmeter and odometer, showing how far the current car has been driven this session and all time. Sidekick had always tracked this information, but it was hidden away in the car status screen.
The current date and time within the simulation, as well as an estimate of the current time acceleration multiplier. This is only an approximation, but it should be roughly accurate. These are only functional if you are also using SOL, but this can be toggled to show local time
Bigger Brighter Shift Lights
The default shift lights are easy to miss in your peripheral vision, so there are two settings to make them more obvious: Big Shift Light changes the background of the displays to the appropriate colour; and Shift Light Glow overlays a colour blur to simulate the glare from a bright light


Tyre Wear and Temperature Bars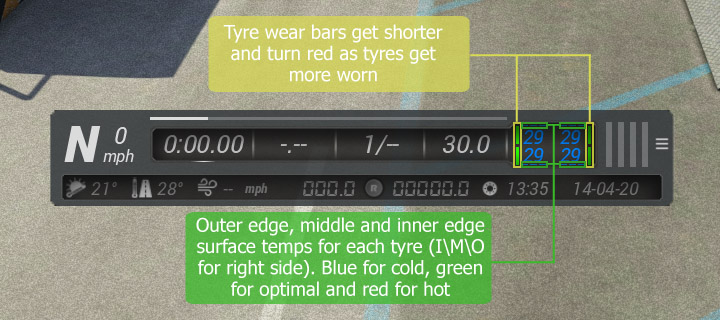 Delta Progress Bars

All of the new features are optional, and can be turned off in the Sidekick settings window, or under Settings|Apps|Sidekick in Content Manager.
Installation Instructions
Just unzip the archive below into your Assetto Corsa installation directory.
If you have a previous version of Sidekick installed, answer Yes when prompted to overwrite existing files. Settings, odometer readings, laptimes, and generated car information from previous versions will not be overwritten, but I strongly recommend backing up the \Assetto Corsa\apps\python\sidekick directory first just in case you have any issues.
Download Latest Version
Previous versions can be downloaded from the respective release post, linked from the change log below.
Change log
v1.14.1-tl 20200430 technoluddite
Fixed Bug where editing settings in Content Manager corrupted the settings file
v1.14.0-tl 20200419 technoluddite
Added optional delta bars for rate of change when compared to previous best lap
Fixed couple of bugs with settings checkboxes getting the wrong initial state on first load
Fixed some text colour flickering near rev limiter
Fixed shift light getting stuck on if not using shiftlight glow
v1.13.1-tl 20200415 technoluddite (unreleased)
Tweaked colours of main displays to help read ability while shift light is on
Fixed DRS Available\Enabled light to align with two line display
Fixed font size for relative tyre pressure display when wearbars are shown
v1.13.0-tl 20200413 technoluddite (unreleased)
Added tyre wear bars
Added tyre I\M\O temp indicators
v1.12.1-tl 20200408 technoluddite
Fixed crash bug when using plain background option
Added option to show local time, instead of game time
v1.12.0-tl 20200405 technoluddite
First Technoluddite release
Added bigger shift\rpm light
Added second info line with weather data, trip\odometers, game time\date\multiplier
v1.11.1 20170922 Topuz