Updated: 30th April, 2020
Sidekick v1.14 Released
Updated with tyre wear and temperature bars; a delta progress bar; more readable displays when shift lights are on; and a few bug fixes.
Tyre Wear and Temperature Bars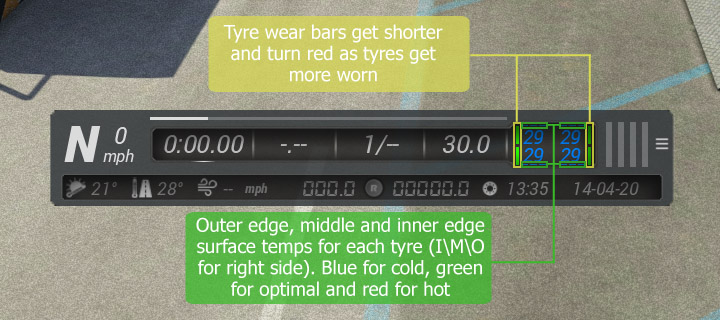 Delta Progress Bars

Improved Readability


Bug Fixes
Fixed couple of bugs with settings checkboxes getting the wrong initial state on first load
Fixed some text colour flickering near rev limiter
Fixed shift light getting stuck on if not using shiftlight glow
Fixed DRS Available\Enabled light to align with two line display
Fixed Bug where editing settings in Content Manager corrupted the settings file
Installation Instructions
Just unzip the archive below into your Assetto Corsa installation directory.
If you have a previous version of Sidekick installed, answer Yes when prompted to overwrite existing files. Settings, odometer readings, laptimes, and generated car information from previous versions will not be overwritten, but I strongly recommend backing up the \Assetto Corsa\apps\python\sidekick directory first just in case you have any issues.
Full documentation, change log, and previous versions can be found on the main SideKick Extended page, here.