UPDATE 2020-02-15: This has been fixed as of CSP 0.1.44, there is no need to do anything below, just update to 0.1.44.

The Assetto Corsa Custom Shaders Patch (CSP) 0.1.36 has an issue where lights (either trackside or on other cars) don't illuminate until very close to the player if they are on the right hand side of the players view. This issue definitely effects triple monitor setups, and possibly ultra-wide single monitor setups.
These videos demonstrate the problem:
Trackside lights
Other car lights:
There doesn't appear to be a way to fix with any of the CSP settings, so the only solution is to go back to a version that doesn't have the problem.
Unfortunatley, of the versions of CSP available through Content Manager, the latest version that doesn't have this problem (1.32) has a different issue with LoD and texture pop-in on triple screens which makes dropping back to that less than ideal.
The latest version with neither the lighting or LoD\texture pop-in issue is 1.25preview205, but dropping all the way back to this means missing out on GrassFX, and not being able to enter any races where the Moby-Dick Porsche is present.
So what to do?
There was a preview build (1.33p4) that doesn't have either the LoD or Lighting problems, and doesn't crash with the Moby-Dick Porsche. While this isn't available directly from within Content Manager (CM), it can be downloaded and installed manually without too much difficulty.
First use CM to downgrade CSP to 1.33, by going to Settings>Custom Shaders Patch, and manually selecting 1.33:

Then close CM , and download the 1.33p4 build from here:
https://mega.nz/#!2sxE2IKJ!Rdv66cUNgZcr2G5CLjFMK086risMVIN7DgRr91TeXGo
Once that's downloaded, copy just dwrite.dll from the zip file, to Steam\Steamapps\common\Assetto Corsa, over-writing the one that's already there: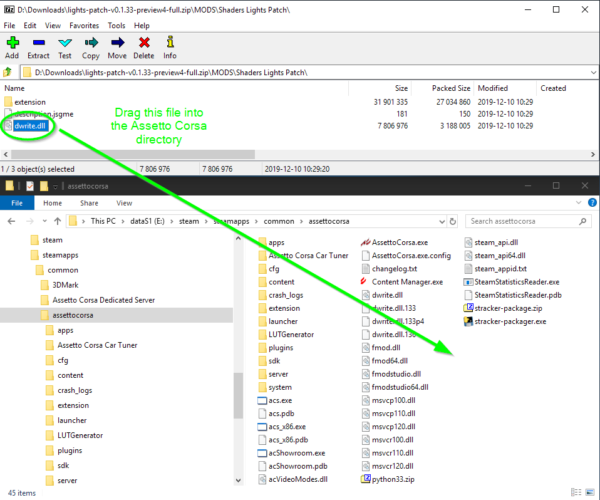 Restart CM, and check that the CSP Settings page now shows 'Shaders Patch version: 0.1.33' and 'Shaders Patch version ID: 881', to confirm that you've copied it to the correct location.
Track and car lights should now work properly!
Note that because you have manually set the version of CSP, Content Manager will not now automatically update CSP when new versions are available.
Hopefully x4fab will address this in a future CSP version.